Well i'm not gonna lie to ya, I wish I was up in Ed, However, I to have some fairly good things going on,
On the 3rd of August I'm hosting the comedy stage at at Hull's Humber Street Sesh, where I will be introducing and having a right old laugh. (Click here)
On the 10th of August I am back at Savile Row Cafe Bar as host to a solid full line up(Click here)
On the 14th of August I shall be introducing our first one man show at Happy House Comedy, "Dark side of the thoughts" Staring Toju aka, The Militant Black Guy. (Click here)
From the 15th, 16th, 17th, and 18th of August i'm the host of the comedy marquee for laughing bull comedy at Tribfest (Click here) 
And finally on the 31st of August I shall be Hosting another one man show with some amazing support acts for comedy legend PATRICK MONAHAN!!(Click here)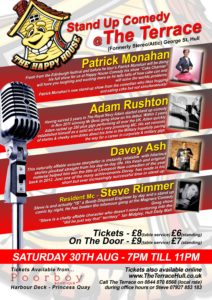 So basically what i'm saying is, I too have a busy August Comedy wize.